Babcock Dounreay Partnership poised to run nuclear firm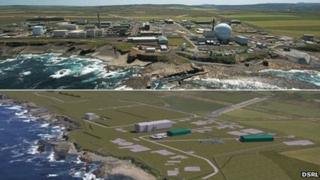 A preferred bidder to manage the company leading the demolition and clean-up of the Dounreay nuclear plant in Caithness has been confirmed.
Babcock Dounreay Partnership, a consortium of UK and US companies, is poised to take over Dounreay Site Restoration Limited from the UKAEA.
Caithness Solutions, another consortium of engineering and design firms, had also bid for the contract.
The experimental nuclear power site is being demolished and cleaned up.
Babcock Dounreay Partnership is expected to formally take over DSRL in April next year.
DSRL's new owners would be expected to take the decommissioning programme to what is called its interim end state where Dounreay's landmark dome and other buildings had been removed.
Key criteria for the competition held by the Nuclear Decommissioning Authority (NDA) were that bids should accelerate the current 2038 interim end state date by at least six years, while reducing project costs by at least £500m.
The contract that would be offered to Babcock Dounreay Partnership could eventually be worth up to £3bn.
Heavily-shielded sheds
What would remain at Dounreay at the end of the contract would be a landscaped low-level waste store.
A small number of large heavily-shielded sheds containing about 20,000 tonnes of more highly radioactive waste would also remain.
About 100 tonnes of fuel still at the site - material that could be used in future electricity production - is expected to be moved to another nuclear plant for reprocessing.
The NDA has sought permission to start taking 44 tonnes of fuel to Sellafield in Cumbria from the summer of 2012 and a decision about the rest of the material will be made next year.
Babcock Dounreay Partnership will be expected bring Dounreay to its interim end state by about 2032, with project costs not running to more than £150m a year.
The consortium involves London headquartered Babcock, US-based CH2M Hill and URS, which has its headquarters in San Francisco.
Caithness Solutions comprises of Cheshire-registered engineering firm Amec and Salt Lake City-based nuclear services company EnergySolutions.
DSRL managing director Simon Middlemas said earlier this month that he would expect the new owners to have a "new vision" and their own ideas on how to progress the clean-up project.
He told staff the changeover was unlikely to happen until April next year.
Dounreay unions' leader David Alexander said he expected it would be business as usual for DSRL's 876 workers.
'Rigorous process'
Tony Fountain, NDA chief executive, said the selection of Babcock Dounreay Partnership as the preferred bidder was a significant step in the authority's drive to attract "world-class management and innovation" to its sites.
He added: "We have undergone a comprehensive and rigorous process aimed at securing the best possible parent body for this challenging site.
"Babcock Dounreay Partnership bring a successful track record and extensive nuclear experience that will bring enormous benefits to the decommissioning and clean-up programme.
"We had a number of threshold criteria and these were all met and, in some instances, well exceeded the minimum requirements."
John Thurso, Liberal Democrat MP for Caithness Sutherland and Easter Ross, said Dounreay was a world leading centre of technological innovation.
He added: "I welcome the announcement of the preferred bidder and I look forward to working with them to ensure that, in addition to the undoubted technological legacy of Dounreay, the far north's economy remains a growing, vibrant, skill-based economy that will take us forward for another half century."
Rob Gibson, SNP MSP for Caithness, Sutherland and Ross, said it was "vitally important" al parties involved with Dounreay worked with the local community.
He said: "Their actions will closely scrutinised by many, including myself.
"Babcock now will hold a critical role - It will help shape the future of Caithness I am sure they will be doing their best to make it happen.
"There is great potential in Caithness and Babcock are now pivotal to that."