New works on Wade's Road near Inverness and Newtonmore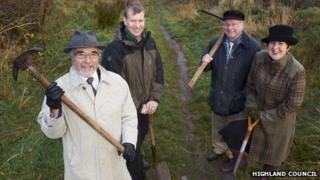 A military road constructed in the Highlands in the 18th Century is the focus of two separate efforts to improve access to it.
Transport Scotland is looking at the possibility of an underpass on the A9 to allow walkers and horseriders to reach Wade's Road near Newtonmore.
Highland Council, meanwhile, is funding work to cut back vegetation and improve drainage on a section near Inverness.
General George Wade supervised road building in the Highlands in the 1700s.
The engineer set out basic rules for military road building from central Scotland to the north to ease the movement of government troops.
Major William Caulfield succeeded Wade as the military's chief road builder in 1740 - however the routes continued to be better known as Wade's.
The roads were constructed following the failure of the Jacobite uprising of 1715.
They linked up forts from Perth to Fort William, then north to Fort Augustus and Inverness.
Large sections in the Highlands were later built over, while surviving stretches are now tracks used by walkers and horseriders.
Ruaridh Ormiston, owner of Newtonmore Riding Centre, has been leading a campaign to have an underpass constructed at a new section of the A9 at Crubenmore, near Newtonmore.
He said the recently-completed stretch of dual carriageway prevented walkers, cyclists and horse riders from reaching part of Wade's Road they had previously used for recreation.
'Great experience'
Transport Scotland said it has had discussions with Mr Ormiston, the Ramblers Association, British Horse Society and Cairngorms National Park Authority about the possibility of an underpass.
A spokeswoman said: "It has transpired that any underpass would have to fit between the adjacent overhead pylon power line and the Perth to Inverness railway line.
"We are now in constructive discussions with Scottish and Southern Energy to determine whether a safe method of constructing the underpass is achievable without impinging on the safety exclusion zone for the overhead pylon line."
Highland Council has given £10,000 towards improving accessibility and drainage on a stretch of Wade's Road leading up to Daviot Wood, near Inverness.
Councillor Thomas Prag said: "General Wade's road is an important historical and leisure asset to our city, already popular, but perhaps not as well known as it could be.
"So we want to make sure it is well signposted and easily accessible."
He added: "We have talked about future plans for the trail as there is potential to link back via the network of paths through Daviot Woods to the moor above Milton of Leys and back into the new paths of Inshes Park.
"To be able to travel along the old road from Inverness to Moy would be a great experience for walkers, cyclists and horseriders."
An archaeologist suggested in 2009 that Gen Wade's roads were not always made to the engineer's exacting standards.
Gen Wade had ordered that boulders and pebbles be laid down first followed by a gravel surface on top.
An excavation of a section of Wade's Road in Glencoe revealed its soldier builders gave up digging away soft peat and just laid the road on top of it.
John Lewis, of Scotia Archaeology, joked it may have been a "Friday job", done in a rush before the start of the weekend.