Violent storm warning for the sea off northern Scotland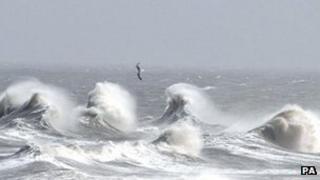 Severe weather warnings have been issued for the Western Isles, Orkney, Shetland and the north Highlands, with gales expected over land.
The stormy conditions are expected to continue until Sunday.
The Met Office has also issued gale warnings for all of its Shipping Forecast areas around Scotland.
It warned of hurricane force 12 winds at sea off the Western Isles and violent storm force 11 winds off Shetland's coast.
Stornoway coastguard helicopter has had to go to the aid of a woman in difficulty on Sleat, on Skye, because of the conditions.
Boats could not reach the woman, who had been in a canoe to go winkle picking, due to the rough sea. She was winched onboard the helicopter.
Seventeen ferry services run by Caledonian MacBrayne have either been cancelled or disrupted because of the bad weather.
The Met Office said that in the worst affect areas, high tides could combine with strong winds to give large breakers which could rise above sea fronts and causeways, bringing a risk of localised flooding to low-lying coastal areas.
BBC weather presenter Chris Fawkes described the intense low pressure causing the stormy conditions as an "absolute monster".
He claimed winds could gust up to 100mph and higher at sea, with the potential for wave heights of up to 18m (59ft).
In October, rollers of more than 15m (49ft) were created during gales off the Western Isles.
They were measured by devices called wave rider buoys, which were installed off north west Lewis as part of a renewable energy project.
In February, waves towering to 15.9m (52ft) were recorded by the Met Office in the sea off Shetland during stormy weather.
Mr Fawkes said: "If you look at the atmospheric pressure, it's fallen by 50 millibars over 36 hours.
"What does that mean to you and me? It means there are going to be some incredibly strong winds.
"We will get winds picking to 70mph on the Western Isles this afternoon, and then overnight the Northern Isles are likely to see winds gusting up to 80mph."
The warnings came as Western Isles Council - Comhairle nan Eilean Siar - presented the findings of a hydrodynamic study which was carried out following the deaths of five members of the same family in a storm.
Archie and Murdina MacPherson, their children Andrew and Hannah and grandfather Calum Campbell perished in January 2005.
The family got into difficulties as they left their home on South Uist to try to escape flood waters.
The hydrodynamic study suggested that the flooding on Uist would not have caused so much damage had it not been for the South Ford causeway between Benbecula and Uist.
Researchers involved in the survey have recommended adding a second bridged opening on the causeway.
They also called for new drainage systems and coastal defence work to nearby Guailainn Island to help prevent flooding.
The comhairle will publish a final report on how to tackle future flooding within the next three months.