Dewar exhibition on Highlands health care 100 years ago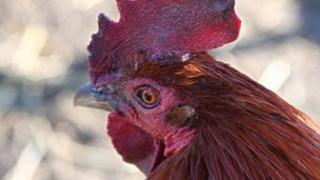 Obscure traditional health remedies were still in use in parts of the Highlands and Islands until the 1900s, a new exhibition will show.
Burying alive a black cockerel to cure an epileptic fit was among examples found by academics and medical professionals organising the event.
The exhibition aims to highlight the importance of the 1912 Dewar Report.
MP Sir John Dewar gathered evidence of medical care in the region amid concerns it was absent in some parts.
Deaths in Scotland were being officially certified by doctors at this time, but in parts of the Highlands and Islands this was happening in just one in every five cases.
The Dewar Report also gathered evidence of the burying of a cockerel alive at spot where someone had suffered an epileptic fit on the Isle of Rona, which lies off the tip of Raasay between Skye and the Scottish mainland.
Sir John's findings shocked politicians and led to the setting up of the Highlands and Islands Medical Service.
After World War II the service was used as model for publicly funded care.
Ten museums, including Newtonmore's Highland Folk Museum, have agreed to stage the exhibition prepared by a group of enthusiasts.
Dingwall GP Miles Mack helped to research the contents of the Dewar Report and was stunned by some of its findings.
He said: "Quite a lot of midwife nurses only had three months training, if you had them at all.
"Through people giving evidence to the report there was an example where a wife, whilst she was in labour, was reading out from a manual so her husband could deliver the baby.
"It was quite startling."
Dr Mack hopes further museums will sign up to take the exhibition.