US world record breaker in flipper skipping claim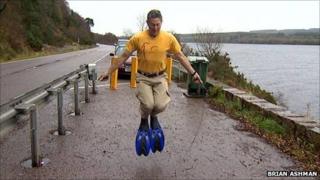 A man who holds more than 130 world records claims to have set a new one for skipping in a pair of flippers.
Ashrita Furman, from New York, skipped 255 times to beat the previous record of 113.
His bid on the shores of Loch Ness, near Inverness, was filmed and will be submitted to the Guinness World Records for confirmation.
Calling himself Mr Versatility, he has previously set records for blowing a pea over the longest distance.
His other feats include achieving the greatest distance for champagne cork spitting and the longest distance for blowing a chocolate sweet with a straw.
In October 2005, Mr Furman set a new world record in Edinburgh after he completed 206 jumps on a pogo stick in one minute.
He carried out the attempt next to the statue of Greyfriars Bobby, while carrying a dog.