F1 car drives demand for Inverness engineering event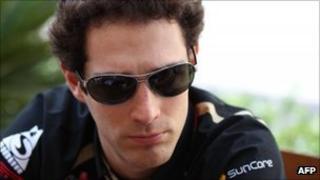 A free engineering event for the public that will feature a Formula 1 racing car has had to be moved to a bigger venue because of demand for tickets.
Featuring a mechanic who works on cars driven by Bruno Senna, the nephew of legendary driver Ayrton Senna, the one-off event is being held in Inverness.
Eden Court's 138-seat La Scala cinema was booked by the organisers.
But high demand for tickets has led the one-off event to be moved to Eden Court's 266-seater OneTouch theatre.
The Institution of Mechanical Engineers and Institution of Engineering and Technology have organised next month's event to promote engineering in the Highlands.
Guest speaker Jackie Christie is a Lotus Renault GP F1 mechanic and works on cars driven by Senna and Russian Vitaly Petrov.
Organisers said Mr Christie's talk on pit stop mechanics and the chance to see an F1 car up close had driven demand for tickets.
People are travelling from Aberdeen, Edinburgh and Kyle of Lochalsh to be in the audience.