Treehouse built for communities in Wester Ross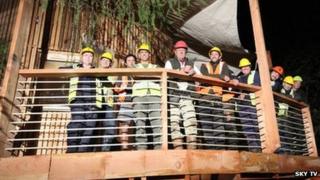 A large treehouse has been built for the benefit of people living in Wester Ross as part of a television series.
The structure in Lochcarron will feature in the first of three programmes for Sky TV's Great British Treehouse Challenge.
Strathcarron-based Kirkton Woodland and Heritage Group (KWHG) worked with an architect and production company October Films on the project.
The documentary followed the planning and construction of the treehouse.
KWHG worked with Kristine MacKenzie, a local development officer, and artist Vicky Stonebridge on their application to the programme makers to be picked for the documentary.
The treehouse was built during the autumn as an environmentally friendly community space for Lochcarron, Strathcarron and Kishorn.
Once electricity has been installed, the building will be used for meetings, classes, school groups, music sessions, cultural events, weddings and photoshoots.
The Lochcarron project will be shown on Sky 1 on 12 December.