Matthew Wright writes letter to murdered Liam's family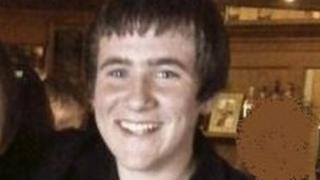 TV presenter Matthew Wright has written to the parents of murdered teenager Liam Aitchison following comments on his show about the police probe.
During Tuesday's The Wright Stuff, he did a mock Scottish accent and said "there's been another murder", copying a phrase from detective show Taggart.
The murder of Liam Aitchison, 16, was discussed during a newspaper review.
Channel 5 said the contents of the letter would not be made public but said it contained an apology.
Liam's death marked the first murder on the Western Isles in 43 years.
Channel 5 presenter Wright was criticised for mocking the murder and panel member Charlie Baker described it as "the longest episode of Taggart of all time".
Wright made an on air apology about the comments on Wednesday, but added that those campaigning for people to complain to TV watchdog Ofcom should "grow up".
Liam's family later issued a statement through the police criticising the programme.
Wright apologised on air for a second time on Thursday and has also personally written to Liam's parents.