Remote home in Knoydart's 'last wilderness' for sale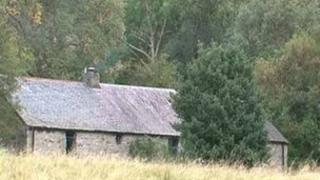 A house in one of the most remote parts of the UK has been put up for sale.
The 181-year-old stone cottage renovated by fisherman Mick Simpson, 62, and his wife Joyce can only be reached by foot or by boat.
The nearest villages to the property on the Knoydart peninsula in Lochaber are nine miles away at Inverie, itself only accessible by foot, or by ferry.
The other community is Arnisdale, a boat trip across Loch Hourn and where the Simpsons' keep their car.
A round trip of the loch takes about an hour.
Knoydart has been dubbed the UK's "last great wilderness" because of its landscape of hills and lochs and also its small number of inhabitants.
The Simpsons have put their renovated 181-year-old property at Croulin on the north coast of the peninsula on the market for £200,000.
They have lived at the house for 30 years and raised their two children there.
The property has views across the Sound of Sleat to the Cuillin hills on Skye.
Heating and hot water is supplied by wood and coal-burning stoves, while electricity is supplied by a diesel generator.
Mod cons such as internet access and satellite television have been installed.
Mr Simpson has offered to pick up viewers of the property from Arnisdale in his boat.
He said: "I am marketing the home myself and will pick-up any viewers - but no time wasters.
"The journey involved means we can only have people who are genuinely interested."
Alternatively, potential buyers can travel nine miles from Inverie. Parts of that journey involve using a Land Rover and quad bike over dirt tracks before a walk of the last two miles.
Mr Simpson said: "It is a unique place and you can make a living here if you are determined. Tourism is now a big industry on Knoydart.
"But this place is not for everybody.
"It is not all romance - you cannot live off a view.
"Life can be very hard at times here. There are days - some times days on end - when the weather will determine what you can and cannot do."
He added: "Every gale can be a bit of a nightmare. The biggest problem is seeing your dinghy picked up by the wind and being blown three miles across the loch."