Ofcom to probe Matthew Wright comments about murder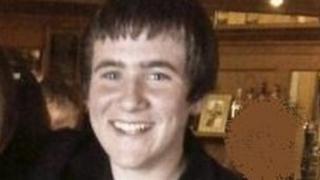 TV watchdog Ofcom has launched an investigation into comments made by presenter Matthew Wright about the police probe of a murder on Lewis.
Wright has apologised on air and in a letter to Liam Aitchison's parents about comments made during a newspaper review on Channel 5's The Wright Stuff.
Ofcom, which has received about 2,220 complaints, confirmed the launch of an investigation into the programme.
Two men have appeared in court charged with Liam's murder.
The 16-year-old was found dead in a derelict building in the Steinish area on the outskirts of Stornoway on Lewis almost two weeks ago.
When the launch of a murder inquiry was reported in the newspapers last week, Wright caused controversy when he put on a Scottish accent and said "there's been another murder", copying a phrase from detective show Taggart.
A panelist on the show pointed out that it was the first murder in the Western Isles for 40 years and Wright repeated the Taggart phrase.
Wright later apologised for his comments, saying it had not been his intention to "belittle" the death.
The presenter said that those campaigning for people to complain to Ofcom should "grow up".
Angus MacNeil, SNP MP for the Western Isles, raised a complaint with the watchdog, along with many of his constituents, saying "making jokes about the tragedy ... is beyond belief".
Ofcom will assess the broadcast against rules on generally accepted standards.
Jonathan Mackinnon, 21, from Stornoway, and 20-year-old Stefan Miller, from Carloway, appeared in private at Inverness Sheriff Court on Monday in connection with the death.
They made no plea or declaration and were remanded in custody.