Emergency services dealing with car in canal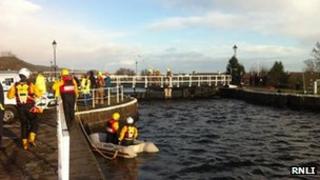 Emergency services have been dealing with an incident where a car was reported to have gone into the Caledonian Canal in Inverness.
RNLI Kessock lifeboat crew were called to the scene at the Muirtown locks at about 11:27.
A search and rescue helicopter from RAF Lossiemouth was helping to make a search of the canal for occupants of the car.
Grampian Police divers are expected to make a search of the locks later.
Northern Constabulary said eyewitnesses had seen a 4X4 go into the locks.
CCTV footage from a nearby taxi company appeared to show a vehicle being driven towards the canal.
RNLI Kessock said tyre marks were visible on the ground leading to the water, which is about 6m (20ft) deep.
Insp Peter Wemyss said the water was too dark and murky to know at this stage whether there was anyone inside.
The RAF helicopter flew low over the scene but its crew were unable to see anything under the water.
Fire and rescue crews and members of the RNLI were also checking the site with an underwater camera to see if they could spot the vehicle and check for anyone who may be trapped.