Robin rocks up at Inverness Tesco cafe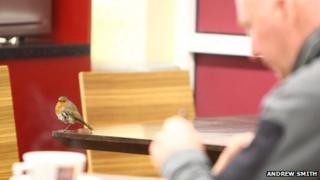 Customers at a supermarket cafe in Inverness have taken a shine to a robin that has been flying to and from tables in the run-up to Christmas.
People visiting the city Tesco Extra store have been feeding the bird crumbs.
The robin has become increasingly more confident to the extent where it will land close to customers' hands with food in them.
The bird first appeared in the cafe about two weeks ago.
Staff at the supermarket believe the robin could be one that came into the cafe last year and which they nicknamed Steve.