Met Office and police in icy roads warning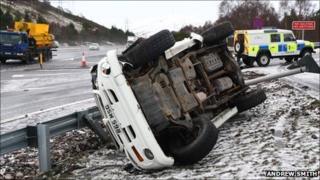 The Met Office has warned of overnight sleet and rain freezing to create icy conditions on roads and pavements across part of Scotland on Wednesday.
Forecasters have issued a yellow "be aware" warning for the Highlands, Moray, Aberdeenshire, Central, Tayside and Fife.
Northern Constabulary and Highland Council are highlighting the alert after problems on Tuesday.
There were three separate crashes on the A9 at Crubenmore.
The Met Office said in its warning for Wednesday: "A mixture of rain and sleet with some snow on high ground, will move slowly and erratically north-east across central and northern Scotland through Tuesday night into Wednesday morning.
"As this falls onto frozen ground, the public should be aware that ice is likely to form on untreated surfaces."
Highland Council said conditions on roads and pavements in its area had been "treacherous".
A spokesman said: "The conditions this morning were very difficult.
"The rain yesterday washed away the salt that was on the road and the early morning drop in temperature resulted in treacherously icy conditions.
"We have every machine at our disposal treating our roads, with bus and main routes given priority.
"Even after treatment the ice will take some time to clear."
Flipped over
The first of the incidents on the A9 happened at about 10:00.
A witness said a Mitsubishi Challenger skidded on the northbound carriageway and flipped over a crash barrier near the Crubenmore junction.
Moments later a Peugeot 207 skidded in the same place and spun, crashing backwards into the crash barrier.
As emergency services dealt with those incidents an Audi A1 skidded on the southbound carriageway and struck the central crash barrier.
The occupants of the cars were believed to have escaped uninjured.