New Royal Navy images of Russian navy in Moray Firth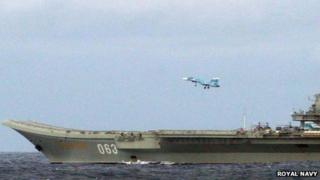 The Royal Navy has released new images of a Russian aircraft carrier that sought shelter off Scotland's coast amid bad weather last week.
HMS York spent most of past week tracking aircraft carrier Admiral Kuznetsov, a destroyer, two frigates and support ships.
The elements of Russia's Baltic Fleet had sought shelter in the Moray Firth.
The images taken by HMS York's crew include ones showing a Sukhoi Su-33 Flanker jet taking off and landing.
The Royal Navy Type 42 destroyer was sent from Portsmouth to shadow the Russian vessels.
With the Russian task group travelling south and away from UK waters, HMS York's crew has now handed over monitoring duties to the French navy.
HMS York's commanding officer Cdr Rex Cox said: "My ship's company have put in a cracking effort in what have been challenging weather conditions and are now looking forward to some well-deserved Christmas leave and some time with their families."
Russian vessels began to appear in the Moray Firth last Monday to seek shelter from stormy weather.
The following day, SNP defence spokesman Angus Robertson said it had been brought to his attention that one of the crews had been dumping waste overboard.
The MoD said the rubbish was most likely to have been waste food, which they were allowed to dump provided there was no plastic in it.
It was understood that the vessels had been heading for the Mediterranean.
Russian military news agency Interfax-AVN said the Admiral Kuznetsov, which the Russians class as a heavy aircraft-carrying cruiser, had been en route to Syria.