Ideas for Inverness landfill examined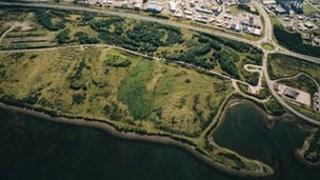 Possible uses for a former landfill site on the edge of Inverness are being explored by Highland Council.
Land at the Longman dump could be offered to industries to develop, or used for waste management.
Some parts of it may also attract bird watchers because of its closeness to protected natural habitat.
A landfill gas risk assessment would have to be done ahead of any building work. A nearby football stadium was designed to cope with a release of gas.
Details on the former Longman landfill site are contained in a newly-released document on Highland Council's Highland-wide Local Development Plan.
Issues with the plan, which aims to guide future development, raised during public consultation have now been examined by a Scottish government-appointed reporter.
He has set out a series of recommendations in what is called a report of examination.
Highland Council's planning, environment and development committee will consider the document on 18 January next year.
Natural venting
During the consultation, the Health and Safety Executive (HSE) said the risk of landfill gases would have to be assessed ahead of any development of the former landfill site.
It said an assessment ahead of the constructing of Inverness Caledonian Thistle's stadium led to the building, including its foundations, being designed to allow the natural venting of any sudden release of gas.
RSPB Scotland suggested during the consultation that the dump could also be turned into suitable habitat for wild birds.
The Longman dump sits close to the shores of the Moray Firth which provides important habitat for sea ducks, such as common scoter, and waders.
'The first'
The Scottish government-appointed reporter also examined issues raised about the development of land at Culloden and in Ross-shire and Caithness.
Planning committee chairman Ian Ross said: "Highland Council is the first local authority in Scotland to receive a report of examination for one of the new-style local development plans.
"Officials will now be sieving through the report and next stages of work to allow the council to move swiftly to formal adoption of the Highland-wide Local Development Plan which is anticipated in spring 2012."