Walks from funicular to Cairn Gorm consultation to end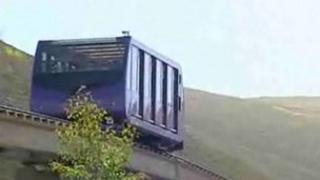 Consultation ends later on whether a trial scheme offering funicular railway passengers guided walks to the summit of Cairn Gorm should be made permanent.
Hillwalkers were not initially allowed to use the funicular as a quick means of reaching the plateau.
Walkers had to start their journey from lower down the mountain in an effort to prevent damage to the environment.
However, a trial scheme offering guided walks to the summit began last year. The consultation started six weeks ago.
Scottish Natural Heritage (SNH) and Highland Council have been seeking views on making the walks permanent.
More than 10,000 people have taken part in the Walk@The Top events so far.
Those on the walks must return to the top station with their guide, and SNH said there had been 100% compliance with that rule during the trial period.
The new walks would require changes to the Cairn Gorm visitor management plan, a legal framework between Highland Council, SNH and CairnGorm Mountain Limited.
Badenoch and Strathspey Conservation Group opposed the walks last year because of concerns it would increase pressure on a fragile environment.