Former RAF rescuer tells of Lockerbie trauma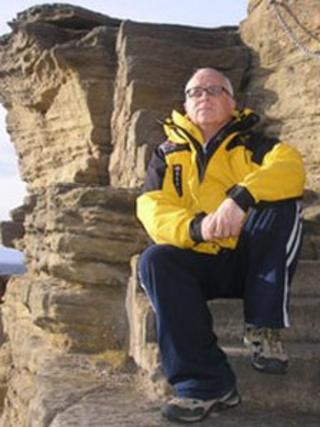 A former serviceman called to the scene of the Lockerbie bombing has said he was criticised for seeking psychiatric help for himself and his colleagues.
RAF mountain rescue veteran David "Heavy" Whalley was on leave from RAF Leuchars in Fife when Pan Am Flight 103 was blown up on 21 December 1988.
He and other mountain rescue team members were tasked with searching the wreckage that came down over Lockerbie.
The Ministry of Defence (MoD) said it could not comment on Mr Whalley's case.
A spokesman added there have been a number of improvements made to looking after the mental health of serving personnel.
Mr Whalley said psychiatric help was sought, but not given.
Military and civilian mountain rescue teams assisted the emergency services and volunteers at the site of the bombed passenger jet.
Now retired from the RAF after ending his career at RAF Kinloss, in Moray, the former mountain rescue team leader Mr Whalley was 37 with 15 years rescue experience at the time of the bombing.
Following his three days at the scene of the Lockerbie bombing, which killed 270 people, he was called to the site of the 1994 Chinook helicopter crash on the Mull of Kintyre. All 29 onboard died.
Mr Whalley said of Lockerbie: "We were all getting ready for Christmas and when we arrived within an hour and half of the tragedy it was a hell on Earth."
"When I made an initial assessment of the scene I managed to get a line to our control at Pitreavie and when they asked what I needed I said we would need help from psychiatrists as this was beyond my understanding or experience."
'Hard time'
He said himself and others were later briefed by Prof Gordon Turnbull, a graduate of Edinburgh University and regarded as a leading expert on trauma.
Mr Whalley said: "After Lockerbie we had briefings from Gordon and his team and this was not accepted by all.
"Many in the military and in the higher ranks thought this was not needed and I did get a hard time from many for asking for help, even some of the very experienced mountain rescue members thought it was over the top.
"In the end we had several team members including myself who still suffer for the effects and the anniversary of Lockerbie is hard for us. It is a fact that 11 of my team contacted me yesterday."
He added: "It will not be forgotten by those who lost loved ones, or those who were involved. It changed me forever and many friends.
"It was not just the young and inexperienced who suffered but many of the hardened team members."
The MoD said it could not comment on individual cases, but added that mental health of armed forces personnel was taken seriously.
'Buddy system'
A spokesman said: "The mental health of our armed forces is a key priority for the government, which has committed £7.2m to improving services for veterans.
"For serving personnel clear post-operational stress management policies have been in place across all three Services since 2007.
"The MoD considers all mental health disorders seriously and offers assessment and treatment to individuals who are concerned about their mental health.
"Diagnosis and treatment in the armed forces is performed by fully trained and accredited mental health personnel and treatment techniques have been evaluated and recommended by the National Institute for Clinical Excellence (NICE)."
He added: "The MoD has increased the number of clinical psychologists available to personnel over the past three years. Psychiatric training is now integrated into the initial training of service medical officers with further, bespoke training for all Defence Medical Services GPs."