Liam Aitchison's storm-delayed funeral takes place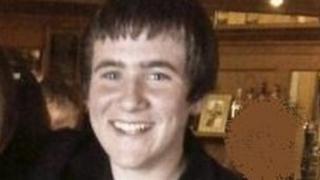 The funeral of murdered Western Isles teenager Liam Aitchison has taken place after being delayed for two days due to stormy weather.
Family and friends had expected to gather at St Peter church in Daliburgh, South Uist, on Wednesday for a service.
This was to be followed by a funeral procession to Hallan Cemetery.
The arrival of Liam's body from the post-mortem examination in Inverness was held up by the cancellation of ferry sailings to South Uist from Oban.
The 16-year-old is believed to be the first murder victim in the Western Isles for more than 40 years.
He was found dead in a derelict building in the Steinish area of Lewis last month.
Two men from Lewis have appeared in court charged with Liam's murder.