Caithness drink-driver opposes losing £23,000 Audi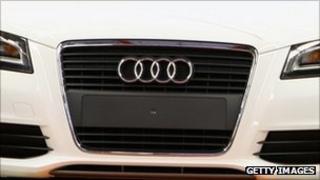 An oil worker who admitted drink-driving has challenged a move by the Crown to seize his £23,000 car.
Ian Campbell, 51, collided with a car driven by an 81-year-old man at a roundabout in Wick on 29 December.
He was arrested at his home in Keiss. Appearing at Wick Sheriff Court the next day he admitted driving carelessly while three times over the limit.
Campbell's solicitor has now told the court that forfeiture of the car would be a "disproportionate punishment".
Neil Wilson said his client, who drives an Audi RS4 Quattro, accepted he was over the limit when he caused the collision, but that drink he subsequently took at home had inflated the reading.
There had been two-and-three-quarter hours between the accident and Campbell's arrest.
Mr Wilson said Campbell had spent a night in custody and pleaded guilty at the earliest opportunity.
The solicitor said: "Forfeiture of the car would be a disproportionate punishment given that the value of the car is some £23,000.
"A fairly substantial financial penalty can be handed out for drink-driving but you can't hand out a fine of £23,000.
"The Crown is looking for an entirely disproportionate punishment."
Sheriff Andrew Berry has called for a background report and said he also wanted to examine the grounds that had to be established before a vehicle was forfeited.
Campbell is the subject of an interim driving ban and his car remains impounded by police. He is due to appear for sentencing on 30 January.