David Bowes crash death on bridge 'avoidable'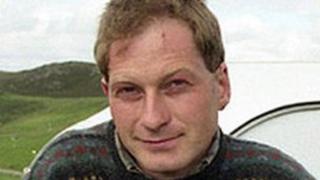 A 46-year-old plumber's death could have been avoided if the parapet on a bridge where he crashed had met modern standards, a sheriff has said.
David Bowes, from Bettyhill, in Sutherland, died after his car slid off a causeway in icy conditions and plunged into the sea in February 2010.
Sheriff David Sutherland said failings with Tongue Bridge were raised with Highland Council in 2005.
The local authority said it was considering the sheriff's findings.
Sheriff Sutherland said regular inspections of the site also stopped before the crash.
A modern parapet would have absorbed the impact of Mr Bowes' pick up truck and resulted in minor injuries and not death, he added.
In his determination following a fatal accident inquiry, Sheriff Sutherland noted concerns raised by a Highland Council civil engineer about the Tongue Bridge in 2005.
Contractors Faber Maunsell also recommended that the local authority take action after reviewing the site in 2008.
'Inescapable conclusion'
Sheriff Sutherland said he appreciated the council had competing claims on its budgets, but added that "at the very least there seems to have been an inordinate delay" in implementing the recommendations of the engineer and contractors.
He added: "It is not clear why the council's Wick office decided to stop the six monthly checks and it is unfortunate that no written documentation is available to shed light on this.
"The inescapable conclusion, however, is that if there had been earlier replacement of the parapet, the probability is that this tragedy would not have occurred, the accident probably resulting in minor injury and damage."
Sheriff Sutherland praised the actions of a Highland Council roads foreman and coastguard, Alexander Morrison, after the ambulance crew raised the alarm.
Mr Morrison swam out to the truck and attached a rope to it.
'Undoubted courage'
Sheriff Sutherland said: "There was independent evidence of the dangerous situation that the vehicle was found in and it is a tribute to Mr Morrison's professionalism as a coastguard and his lack of concern for his own personal safety that he acted in the manner in which he did.
"His evidence was, understandably, understated and did not fully describe the dangerous situation in which he placed himself, but the court would wish to pay tribute to his undoubted courage."
A spokesman for Highland Council said: "The council will be studying in detail the findings of the fatal accident inquiry."
He stated that the need to refurbish Kyle of Tongue causeway was recognised by the authority and major works had been included in its capital programme prior to the accident.
He said work had recently been completed, at a cost of £1.2m, to replace the parapets and to carry out extensive concrete repairs.