Daviot Wind Farm near Inverness to 'benefit' education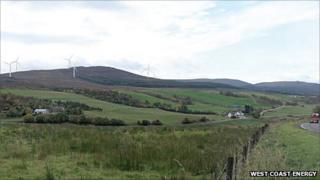 A 13-turbine wind farm planned for near Inverness would be the first in the Highlands to bring direct benefits to education, its developer has said.
West Coast Energy has submitted a planning application and environmental statement for its Daviot Wind Farm with Highland Council.
The firm said it had also agreed in principle an arrangement to use profits to fund Inverness College UHI.
The college could receive £130,000 a year to improve access to its courses.
West Coast Energy said the project, about five miles (8km) south-east of Inverness, would generate enough electricity for about 18,600 homes.
Communities of Strathnairn and Strathdean would also benefit directly from the net profit from the wind farm, the company said.