Nairn man fired air gun at snowball throwing youths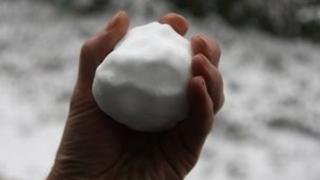 A man fired an air gun over the heads of youths who had thrown snowballs at his front door before threatening them with a knife, a court has heard.
Michael Hannah, 20, of Nairn, was told by a sheriff that he could face jail for his actions on 20 December.
Inverness Sheriff Court heard that Hannah had first warned off the four boys and a girl but more snowballs were thrown.
He scared most of them away with his gun before getting a knife.
A guidance teacher at Nairn Academy reported the incident to police after over hearing a conversation about it, the court heard.
Hannah had previously admitted committing two charges with weapons at his home.
He admitted culpably and recklessly firing an airgun as well as conducting himself in a disorderly manner, shouting and swearing, brandishing a knife towards the youngsters, placing them in a state of fear and alarm and committing a breach of the peace.
Sentence had been deferred for the preparation of background social inquiry reports.
"Two shots"
Sheriff Andrew Berry said he had considered a restriction of liberty order as a direct alternative to custody, but was told Hannah's girlfriend did not want him back at the flat.
The sheriff deferred sentence until 23 January for Hannah to find suitable accommodation.
Sheriff Berry told Hannah: "I am considering a restriction of liberty order instead of sending you to custody, but you need a fixed address.
"These are two very serious matters and I will defer sentence, but all possible sentences still remain open."
The court heard that boys aged between 12 and 15 and a 14-year-old girl had thrown snowballs at Hannah's door.
Defence lawyer Duncan Henderson said Hannah had first tried to warn away the youngsters, but when more snowballs were thrown he went back inside and got his air gun.
The solicitor said: "He then fired two shots over their heads as a warning. Some ran away, but others stayed."
Hannah got a knife to scare those who remained.
Mr Henderson said his client did not pursue the children with the weapon.