Dalai Lama to visit UK in June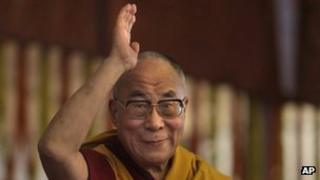 Tibetan Buddhist spiritual leader, the Dalai Lama, is to visit the UK later this year.
He will give public talks in Manchester, London, Edinburgh, Dundee and Inverness.
Tenzin Gyatso, the 14th Dalai Lama, will start his tour in Manchester on 16 June and end it in Inverness on 23 June.
The Dalai Lama, who lives in exile in India, is one of the world's best known religious figures.
Religious groups invited him to visit the UK.
He will deliver his talks in venues such Manchester Arena, Royal Albert Hall and Eden Court in Inverness.