UK's only musk ox arrive at Highland Wildlife Park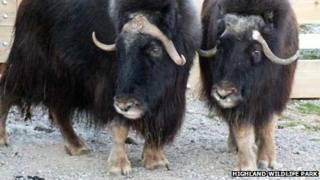 Two female musk ox have arrived at the Highland Wildlife Park near Kincraig.
The Royal Zoological Society of Scotland-owned site is the only place in the UK to keep the Arctic animals.
Douglas Richardson, animal collection manager at the park, said it had been 24 years since musk ox were last imported into the UK.
A specialised facility strong enough to withstand the strength and destructive nature of the ox was built to house the two females.
Mr Richardson said: "Musk ox, even females, are notoriously aggressive and the keepers will need to exercise the same level of care as they do when working with the polar bear or the tigers.
"Tremendously hot tempered during the breeding season, males, who can weigh up to 350kg, can bend heavy steel with their reinforced head - definitely not an animal you want to get too close to."
The ox are not yet on public display.