Four new enterprise areas to be created in Scotland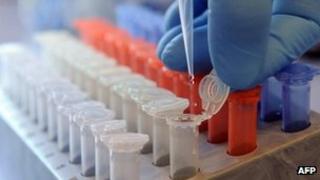 Four enterprise areas are to be created in Scotland to target the sectors with the greatest potential for growth and new jobs, ministers have announced.
The Scottish government has identified 14 sites across the country which fall within the four sectors.
Incentives will be made available to businesses within those areas.
The four sectors are life sciences; low carbon/renewables north; low carbon/renewables east; and general manufacturing and growth.
The Scottish government worked with Scottish Enterprise and Highlands and Islands Enterprise (HIE) on putting together the new areas, which could be operational from April.
Finance Secretary John Swinney said the move would lead to a better use of resources and funding.
He said: "They represent the strategic locations in our key sectors with clear, achievable opportunities for development in the short term.
"We are taking this innovative sectoral approach as it will make better use of resources and target investment where it will be most effective.
"It will also allow us to build on the momentum that Scotland has been generating in life sciences, renewables and the creative sector, as well as promote partnership working."
New jobs
Mr Swinney added: "Incentives available will depend on the characteristics of each site and these may include reduced business rates."
Scottish Enterprise's managing director of operations, Jim McFarlane, said the move would be key to encouraging greater business growth and investment.
He said: "We particularly welcome the focus on manufacturing and anticipate that all the designated areas will offer significant potential to stimulate and deliver new jobs in some of Scotland's leading industry sectors such as renewable energy, life sciences and creative industries.
Director of regional development at HIE, Carroll Buxton, added: "Enterprise areas are about making things happen faster.
"In the Highlands and Islands the initiative is targeting growth sectors, particularly renewable energy and life sciences, where there is considerable potential to create new jobs and economic growth across the region."
The Scottish Chambers of Commerce also welcomed the announcement.
Chief executive Liz Cameron said: "We note that the detail of how the enterprise areas will operate is still being worked out.
"It is crucial that business is a partner in this.
"There is an opportunity here for the Scottish government to build on the goodwill and expertise of the private sector in Scotland to ensure that, even in the current difficult economic climate, enterprise areas are a successful and sustainable initiative."