No plan to reintroduce beavers to Cairngorms, SNH says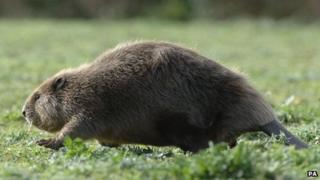 Scottish Natural Heritage has said it has "no firm proposals" to reintroduce beavers to the Cairngorms.
The agency was responding to a newspaper report that a plan to do so could be scrapped because of budget cuts.
SNH, which is involved in a trial reintroduction in Argyll, said it could not scrap something that did not exist.
An advisory note published by SNH in 1999 did consider what impact beavers could have to woods in the Cairngorms.
The Blairgowrie Advertiser reported that there were proposals to release and study beavers in the Cairngorms National Park once the current five-year trial at Knapdale in Argyll is complete.
In response, SNH has tweeted: "Beavers. There are no firm proposals to release beavers in Cairngorms. We can't 'scrap' something that doesn't exist."
The agency later said it was aware that reintroduction of the mammals in the Cairngorms had been suggested by beaver enthusiasts in the past, before a licence was secured for the Knapdale project.
'Potential conflict'
SNH staff did consider the effects of beavers in the Cairngorms in the 1990s information and advisory note number 102 - A framework for forest development in the Cairngorms.
The note's author Alan Hampson wrote: "The possible reintroduction of the beaver could create a potential conflict between the conservation requirements of the biodiversity associated with aspen woods and the beaver.
"It is considered important to treat the expansion of aspen woods on suitable sites as a priority so that the resource is sufficiently robust by the time possible reintroductions are contemplated.
"Ultimately, beavers might actually aid the regeneration of aspen by spreading propagules along the rivers and water courses, and they would almost certainly increase the diversity of riparian woodlands."