Memorial service for teenager Scott Campbell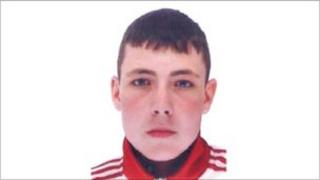 A memorial service has taken place for a teenage mechanic found dead at the weekend.
The body of Scott Campbell, 16, was found in the Culduthel area of Inverness on Sunday.
He had last been seen at about 05.15 on Saturday near a Tesco supermarket in the Inshes area of the city.
Monday night's service was held at the Culduthel Christian Centre where Liz Campbell, who attends the centre, said there had been a "terrific turnout".
"There were a huge number of young people in attendance, along with Scott's family and friends," she said.
"The centre was totally full, it was a terrific turnout for such a sad death."
Earlier, pupils at Inverness Royal Academy, where Scott had attended until the summer, held a two-minute silence in his memory.
'Popular boy'
The school also held a special assembly for his year group.
Rector Alastair McKinlay said: "Scott was a very personable young man who was full of energy and had a great sense of humour.
"He was strong and energetic and would have had a lot to contribute in the future.
"He was a very popular boy and our thoughts are very much with the family, especially his younger sister Sarah who is in first year here."
Floral tributes have been left by friends close to where Scott's body was found however, police had urged people to attend the service rather than visit the scene of the death.
Northern Constabulary are treating the teenager's death as unexplained.
Hundreds of people have left condolence messages on Northern Constabulary's Facebook page.
Originally from the Western Isles, Scott's funeral is to be held at Ness on Lewis.