SPL footballers help pupils learn French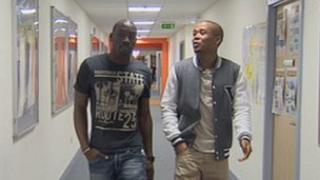 Two Scottish Premier League footballers are helping pupils at a Highlands school to learn French.
Gregory Tade and Kenny Gillet go to Millburn Academy in Inverness on their days off from training.
The Inverness Caledonian Thistle players said they enjoyed their class time with the youngsters.
Fiona Taylor, principal teacher of French, said the school could not have asked for a better way to encourage pupils in the language.
Nantes-born Tade and Gillet, from Bordeaux, said they used their native language on the pitch to try to confuse opposition players.
But they said they could not use the same tactic with their manager Terry Butcher because he can also speak French.
Tade said: "I am used to being taught by the gaffer to play football properly and I am back at school to teach kids French, or to encourage them to.
"It is a very different and good thing to do."
Gillet added: "This is a new thing for me. I try to talk to them and help them as well."
Ms Taylor said the footballers' visits had increased pupils' enthusiasm for French.
She said: "They have been given so much more confidence by speaking to French people."