Eighth Raigmore Hospital patient contracts C.diff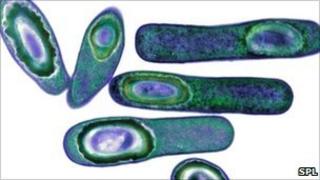 An eighth patient has contracted Clostridium difficile (C.diff) in an outbreak which has hit the main hospital serving the Highlands.
The health board said a new case had been confirmed at Raigmore Hospital in Inverness.
It comes after seven patients have contracted the potentially fatal bug in the past month.
One ward at the site, with four patients, remains closed to new admissions or transfers.
Three of the patients have symptoms of the infection and one has been symptom-free for three days.
Three other patients have already been discharged. One person, who was admitted as an emergency and was seriously ill, died shortly after they were admitted from an existing medical condition.
The health board said they had contracted (C diff) from the community, so it was not related to their care at Raigmore.
Dr Emma Watson, lead infection, prevention and control doctor for NHS Highland, said: "We are continuing to monitor the situation very closely and are taking all necessary actions.
"We believe the recent patient was most likely infected before the outbreak was declared.
"I would like to reiterate that the risks to healthy patients, visitors and staff are minimal."
Compliance with hand-hygiene by staff and visitors has been stepped up and the frequency of routine cleaning has been increased.
Symptoms of the bug include diarrhoea, fever and abdominal cramps.
In rare cases, C.diff can cause peritonitis, an infection of the lining in the abdomen, blood poisoning and tears in the large intestine.
In very rare cases, a C.diff infection can be fatal. The risk of this is higher in elderly people and those who have other very serious health conditions.