Haunting Scottish ballads 'empower' women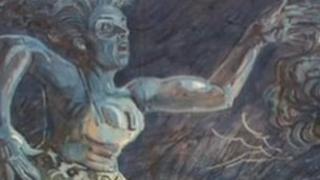 An academic is to explore why Scotland's cultural heritage is full of sex and the supernatural.
Dr Donna Heddle said she also found "interesting patterns of female empowerment" while researching works for a lecture at Celtic Connections.
Poems she examined included Tam o' Shanter, which was voted the nation's favourite work by Robert Burns in a YouGov poll.
Dr Heddle is director of the Northern Isles' Centre for Nordic Studies.
The centre is part of the University of the Highlands and Islands.
Dr Heddle will give her free lecture - called Selkies, shapeshifters and sex - later at the Glasgow Royal Concert Halls during the music and arts festival.
Her talk examines creatures which feature in Burns' Tam o' Shanter and the ballad Tam Lin.
Tam o' Shanter tells of a man who stays too long at a pub and witnesses a disturbing vision of witches and warlocks.
Tam Lin is about a young woman who summons and then loses her virginity to a fairy, Tom-lin. Her love for Tom-Lin lifts a fairy queen's curse from him.
The ballad inspired the 1970s film, The Devil's Widow, starring Ava Gardner and Ian McShane.
Dr Heddle said: "This lecture is about the shape-shifting supernatural creatures like selkies and faeries which inhabit Scottish ballads such as Tam Lin and Robert Burns' Tam o' Shanter.
"I'll be discussing their nature, their history in oral ballads and their legacy in written literature.
"I'll also be exploring what these creatures and their associations with sex say about the society that created them, asking why do the Scots need the dark and sexy world of the supernatural?"
The academic said that as well as finding the male and female supernatural beings she had expected to find in the literature, she also "noted some interesting patterns of female empowerment".
Dr Heddle added: "My favourite ballad of this type is Tam Lin. I think it is because it has two strong female protagonists."
On why Scots' continued to be fascinated with the supernatural, she said: "It is an escape into a less ordered universe where neither the laws of time and space nor the ordinary societal roles and mores apply."