Aviemore Highland Resort ending High Life access scheme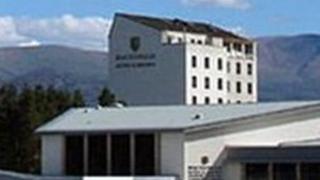 The Macdonald hotel chain is ending its involvement in a local authority launched scheme that provides entry to leisure facilities.
High Life card holders pay up to £23.60 a month to gain all-inclusive access to gyms, swimming pools and sports clubs that are signed up to the scheme.
A pool at Macdonald's Aviemore Highland Resort could be used with the card.
The company said this arrangement would end in March. Some residents in Aviemore are upset by the move.
They said trips to the pool and gym would no longer be affordable for families and they would have to make trips to Grantown-on-Spey 14 miles (23km) away which has the nearest public pool.
Highland Council, which set up an arm's length organisation High Life Highland to run the scheme, was told in September 2011 of Macdonald's decision to end the arrangement.
The contract, which involves a financial contribution from High Life Highland to the hotel, is due to officially terminate in March 2012.
Local councillors are to discuss the move at a ward forum meeting at the Aviemore resort later.
'Competitive rates'
A spokesman for Macdonald Resorts Ltd said the chain had supported the High Life scheme for many years.
He said: "As a business we continue to invest significantly to develop the resort and its facilities to ensure all our guests have the most memorable and enjoyable experience while visiting Aviemore and the surrounding area.
"We are currently finalising a £1.2m capital expenditure plan and we see a leisure centre exclusive to guests and to members as an integral part of attracting increasing business, conference and leisure visitors to the resort."
The improvements would bring benefits to the wider community as well as the hotel complex, the spokesman said.
He added: "Memberships of our leisure facility are still going to be available to the local community at competitive rates."
'Just crazy'
Parent Judith Thurlow, from Aviemore, said the end of the scheme would likely put an end to trips with her daughter to the resort's pool.
She said: "We moved to Aviemore in October last year and we bought a High Life card as soon as we moved here.
"Emma is only seven months old and we use the swimming pool and the soft play area quite a bit already."
Mrs Thurlow added: "When the Macdonald resort stops accepting the High Life card we won't be able to afford to come here. When my sister and her family came to visit they came swimming at the resort on a Saturday morning and I think it cost them £26 which is just crazy.
Another Aviemore mum, Julie MacKenzie, said: "We try to come swimming here every week.
"In the long term the council would have been better building a swimming pool in Aviemore rather than putting money in to the Macdonald resort for the High Life scheme."