Stornoway 'cat fight' pet dog witness dies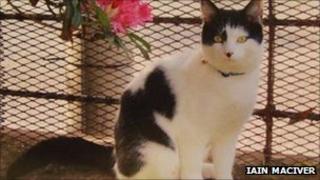 A legal fight over the ownership of a stray cat has ended after a key dog "witness" died.
The row between two women on the Isle of Lewis was due to be heard in court.
Nicola Dempster said she bought the cat but Della Macdonald lodged papers at Stornoway Sheriff Court claiming she found the cat and looked after him.
Mrs Macdonald dropped the case after becoming ill and her dog Hamish, who she had intended to demonstrate was close to the cat, died in January.
Ms Dempster, 19, said she bought the cat, which she calls Smudge, in September 2010 but he went missing in Stornoway in March last year and was found again in August.
Mrs Macdonald claimed the cat, which she called Oscar, was thin and hungry when she came across him. She tried to trace its owner, but no-one came forward.
Facebook 'row'
In her court papers, Mrs Macdonald said her 15-year-old dog Hamish, not a cat lover until Oscar's arrival, would cuddle up to and slept with the cat.
However, at the end of August last year, the cat went missing. Mrs Macdonald said she was heartbroken and Hamish was also said to be "inconsolable".
After an alleged row when Ms Dempster reported finding Smudge on Facebook the issue of ownership moved towards legal proceedings.
Mrs Macdonald said she had looked after the cat longer than Ms Dempster and had demonstrated she could look after him better.
Mrs Macdonald had also planned to cite Hamish to the court, but he died in January and Mrs Macdonald has become ill so has decided not to proceed with the custody battle.
A sheriff has now formally ruled that the cat will remain with its original owner.
Mrs Macdonald said: "Hamish was heartbroken for Oscar and died on 9 January - exactly four months after Ms Dempster took him. He was fit and healthy until then."
Speaking after the sheriff's ruling, Ms Dempster said: "I am absolutely delighted this case is over. I always felt I was Smudge's rightful owner. I bought him and paid for injections."
Putting the dog and cat together in the court "would not prove" anything and would not have been the appropriate way to settle a legal case, she added.
She said she had also previously rejected a proposed test to put the cat between herself and Mrs Macdonald to see which one it would go to.