Rio Olympic bid girl from Culloden pulls father's van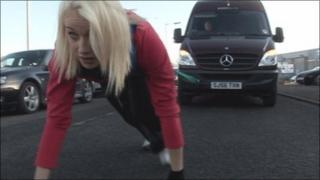 A 16-year-old is pulling her father's 2.5 tonne van 50 metres as part of her bid to represent team GB in power lifting at the 2016 Olympics.
Bronwyn Taylor, from Culloden, near Inverness, took up power lifting about a year ago.
The Culloden Academy pupil, who is training to be a hairdresser, has set a goal to compete at the Olympics in Rio.
She said her father Andrew, 43, convinced her to try moving his van using her own strength.
Bronwyn told BBC Alba: "My dad said I could do it and I said 'no, I don't think I can'.
"But he hooked me up to it and I managed to pull it first time no bother."
At the moment Bronwyn is training for the Bench Press Championships in Northampton.
She said: "I would like to represent Great Britain at the 2016 Olympics in Rio. That's my dream.
"Olympic lifting is different from weight lifting. I have the strength and I am training to channel it in a different way."