Black Watch working towards Afghanistan withdrawal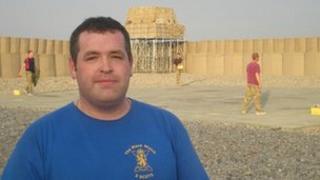 Soldiers of the Black Watch are preparing the ground for a British military withdrawal from Afghanistan.
The 3rd Battalion, The Royal Regiment of Scotland, (3 Scots) deployed from Fort George, near Inverness, to Helmand Province in September last year.
The soldiers have been closing some checkpoints and transferring the control of others to the Afghan army and police.
The work is part of the preparations for the withdrawal in 2014.
Among the 600 Black Watch is Cpl Ewan Harper, from Inverness, who has been at the forward operating base Shawqat for the past four months.
He is a member of the Territorial Army and is making his second tour of Afghanistan.
Cpl Harper is due to get married when he returns to Scotland.
Violence down
He said of his latest tour: "It's quite enjoyable. It gives me a break from my civvy job."
There is a sense of optimism from most of the Black Watch.
They feel a corner has been turned in this small part of Helmand.
Violence in this area has fallen by more than 80% in the last year, according to the Ministry of Defence.
The aim of the 3 Scots' tour is to let the Afghans take the lead.
When the battalion returns home to Inverness in March the soldiers know they have little more than two years before they are due to be sent to Afghanistan again.
The hope is the transfer of control to the Afghans and an accelerated withdrawal of British forces will mean they will not need to go.