Western Isles hauliers 'disappointed' by Keith Brown talks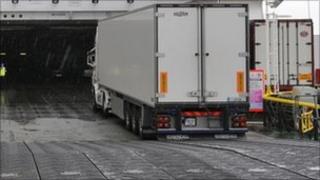 Island campaigners who met with Transport Minister Keith Brown over ferry fares have said some of the delegation were not allowed in to the talks.
The Outer Hebrides Transport Group said it was "extremely disappointed" five of its representatives were refused entry.
The meeting was to discuss discounted ferry travel for hauliers.
A spokesman for Transport Scotland described the talks as "helpful and constructive".
The Outer Hebrides Transport Group is concerned by plans to scrap the road equivalent tariff (RET) from freight.
In a statement it said: "The group really question where democracy is going in Scotland if this is the way in which a government minister treats ordinary members of the public."
The group has said removing road equivalent tariff (RET) from freight would lead to a 172% increase in travel costs from April.
Last month the transport minister agreed to a meeting with a number of hauliers in Edinburgh to discuss a new rebate scheme for larger commercial vehicles.
Ahead of the talks Mr Brown confirmed small commercial vehicles up to six metres long will be eligible for RET fares from the spring.
Continuing discussions
RET sets fares to the equivalent cost for travelling the distance by road.
A pilot project has been running in the Western Isles, Coll and Tiree since October 2008 and is due to end in spring 2012.
The Scottish government plans to continue the scheme and roll it out to other routes.
Following the latest meeting a Transport Scotland spokesman said: "The Minister heard community concerns over changes to ferry fares and the problems of previous discount schemes and was pleased that the community clearly understood the budgetary pressures faced by the government.
"The Scottish government does and will continue to invest £5m in RET for the Western Isles, Coll and Tiree.
"While all those at the meeting agreed that RET was designed to equalise the cost of ferry and road travel for hauliers moving goods there was a clear acknowledgment that increases like fuel prices, VAT and insurance, all of which are impacting on hauliers' day to day business, are all pressures outwith the Scottish government's control."
He said Mr Bown had confirmed an early response and would come forward with a revised approach which will seek to reduce the impact of fare increases for larger commercial vehicle.
He added: "The minister also offered to meet other members of the community who were in Edinburgh today to brief them on the outcome of the discussions, however his offer was declined."