Inverness Chamber of Commerce backs West Link option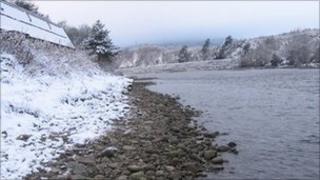 Inverness Chamber of Commerce is backing a £27.2m option for the route of the city's proposed West Link road.
Called option six, it follows the bank of the River Ness from Dores Road roundabout to cross the River Ness at what is known as the precast yard.
The route would then follow the tow path of the Caledonian Canal embankment to a canal bridge at Tomnahurich.
The chamber, which represents more than 300 businesses, said the West Link should be built as soon as possible.
Chief executive Stewart Nicol said the chamber had considered the three options for the road carefully.
He said: "Option six will complete the city of Inverness in terms of infrastructure.
"As well as opening Ness-side for development it will relieve traffic flows on the Dores Road between the entrance to Holm Mills Road and the roundabout at the western end of the Southern Distributor Road.
"We also presume this option will most easily facilitate the provision of flood defences on the River Ness for the length of the proposed new road adjacent to the south side of the River Ness."
On Monday, a construction organisation urged Highland councillors to make a swift decision on the West Link.
The Highland Building Employers Association said the road would ease travel through the city and also open up new areas for development.
Highland Council's West Link working group will meet on 17 February before making a recommendation on its preferred option, or options, to the full council meeting on 1 March.