Whisky supports more than 10,000 workers, SWA reports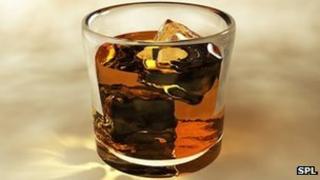 The whisky industry in Scotland provides direct employment for more than 10,000 people, according to a new report.
The Scotch Whisky Association (SWA) said its study also suggested that distilleries and bottling plants "underpinned" many communities.
Called The jobs...the people, the report includes 22 case studies of employees across Scotland.
In December, the SWA said exports rose in the first nine months of 2011.
Chief executive Gavin Hewitt said the new report showed that the industry provided thousands of highly-skilled jobs.
"Our report illustrates well the dedication of our employees, many of whom spend their entire career producing Scotch whisky," he said.
"The report also shows how the Scotch whisky industry is an integral part of many communities across the country."
The SWA reported in December that exports soared over the first nine months of last year, with the valuation of shipments rising by 23% on the same period last year.
The value reached nearly £3bn, with the industry pulling in £125 every second.
Exports to Brazil were up nearly 50%, reaching almost 10 million litres of pure alcohol, according the Scotch Whisky Association (SWA).
The city of Recife in Brazil is believed to have the highest per capita consumption of whisky in the world.
The value of exports to the USA remained the highest of any country, at £430m.