Western Isles rockets task force could reconvene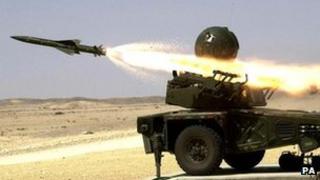 A task force that fought job cuts at a military rocket range and a coastguard station closure could be reconvened to challenge freight ferry fare increases.
Comhairle nan Eilean Siar and crofters are now backing island hauliers who say they face rises of up to 172% on the cost of ferry travel from April.
Task forces campaigned to save the Hebrides Range and Stornoway coastguard station from cutbacks.
A new group would mark the seventh major islands campaign in four years.
Other high profile campaigns and protests have been held on issues such as ferry sailings on Sundays, the withdrawal of coastguard tugs and a special area of conservation in the Sound of Barra.
Members of the Outer Hebrides Transport Group - made up of hauliers and business people - met with Transport Minister Keith Brown earlier this week over ferry fares for large lorries.
The group said it was "extremely disappointed" that five of its representatives were refused entry to the meeting.
It also continues to be concerned by plans to scrap the road equivalent tariff (RET) from freight.
A spokesman for Transport Scotland described the talks as "helpful and constructive".
'Important signal'
Since the meeting, comhairle leader Angus Campbell said there was growing support on the islands to the hauliers' call.
He said: "As a council we need to do everything we can to support them, but it is a very important signal that is coming from a wider base of the community and not just through the council."
Some councillors have suggested launching a new task force to challenge the fares.
Crofter Murdo MacLennan said the cost of animal feed would go up if ferry fares for freight increased.
"The cost of moving stock from the islands to mainland markets will increase substantially as well and that will impact on the benefits of crofting," he said.
"It will have an impact on whether people continue crofting and keep stock or not."