Ferry 'shuffle' after Stornoway-Ullapool boat damaged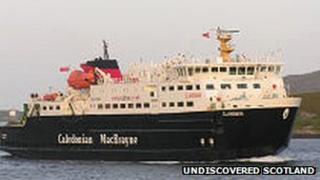 A ferry that sails between the Scottish mainland and the Western Isles has been damaged following a major engine repair.
MV Isle of Lewis was damaged leaving a dry dock in Liverpool.
Operator Caledonian MacBrayne said it was having to "shuffle" vessels across its fleet until the boat returned to the Stornoway-Ullapool route.
Five other ferries in total could potentially become involved as part of CalMac's contingency plans.
The ferry operator said it hoped the Isle of Lewis would return to its route by the end of the week.
While it was in dry dock for repairs to an unexpected engine problem, MV Clansman covered the Stornoway-Ullapool sailings.
This vessel is now on its way to Aberdeen for a refit because the Isle of Lewis had been expected to return to duties.
MV Hebridean Isles has been sent from Islay to cover the Stornoway-Ullapool route. Some commercial traffic has also been diverted to another ferry, MV Muirneag.
CalMac said MV Finlaggan, another vessel serving Islay, should be able to cope on its own until the Hebridean Isles returned to its normal duties.
If needed, MV Isle of Arran would be brought in to help with ferrying traffic to and from Islay.
But CalMac said it could take several days to get the Isle of Arran back into service because it had been laid up in Campbeltown.