Fire Brigades Union in call to save Highlands stations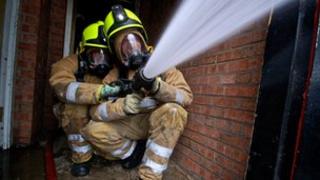 The Fire Brigades Union is urging the Highlands and Islands Fire Board not to allow the chief fire officer to close small fire stations across the area.
Ahead of a special board meeting on Friday, Chief Fire Officer Trevor Johnson has asked for permission to "suspend" operations of some stations.
He said they were a risk to the fire service because of inadequate training and lack of resources.
The FBU said one man should not be allowed to take those decisions.
Mr Johnson will tell the meeting that the current set up of the Highlands and Islands Brigade is "unsustainable".
The FBU pointed out that Mr Johnson had been involved in the management of the service as problems were developing.
Calum MacNeill, the FBU's brigade chairman for the Highlands and Islands, said: "We believe that the board members will not be content with allowing Trevor the authority to close or suspend stations without prior approval.
"Some board members are extremely unhappy that the service they are responsible for the scrutiny of, has found itself in the position that they do now."
He added: "What is most concerning to us is that the need for a fire station within a community should be based solely on a plan which identifies risk within the area that any station might be required to respond to.
"Given the varying risks across the Highlands from hotels, to nuclear sites, and MoD fuel storage depots, these are the only criteria that should be considered when reviewing a fire station and not whether or not the station costs too much in relation to the number of times it's called out.
"If the senior managers are intent on closing stations then the stations under review should be identified as soon as possible to allow the FBU and the local firefighters and their community to fight any proposed closure or suspension."