Grampian fire chief concerns for Highlands fire service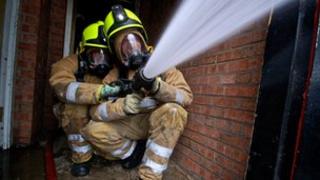 Concerns about safety, training and organisational failings at a fire service have been raised in a chief officer's letter seen by BBC Scotland.
David Dalziel, of Grampian's fire service, is leading an operational audit of Highlands and Islands Fire and Rescue Service (HIFRS).
In a letter to HIFRS chief officer Trevor Johnson, he said the failings were "systemic" and "deep seated".
Last week, firefighters passed a vote of no confidence in senior management.
Members of the Fire Brigades Union claim bosses have failed to act over failings in training and development, risking firefighters' lives.
The audit, led by Mr Dalziel in December, looked primarily at firefighter safety in a number of retained stations.
In his letter sent last month, Mr Dalziel recognised Mr Johnson's awareness of the audit's initial findings.
However, he went on to write that he wanted to put on record the level of failings found so they could be shared with the fire board and key stakeholders.
Clear dangers
Mr Dalziel said it was clear there was an absence of even reasonably-safe working conditions, widespread organisational failure and that it was "systemic" and "deep seated" within the service.
He said the enormity of the challenge facing HIFRS exceeded anything he had come across in his career.
The Grampian chief fire officer wrote: "I have serious concerns that there are long standing, clear and present dangers to operational staff in HIFRS."
Last week, Mr Johnson said four stations had been temporarily shut or "taken off the run", due to concerns over safety.
But he insisted he was not looking at permanent closures.
Mr Johnson had previously asked for permission to "suspend" operations at some stations because of problems with inadequate training and lack of resources.
The union argued that one man should not be allowed to take those decisions.