Climber injured in Ben Nevis fall from Perth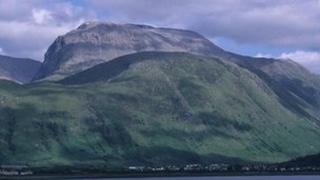 A climber seriously injured in a fall near the summit of Ben Nevis on Sunday morning, in which another man died, has been named.
David Warden, 46, from Perth, has been receiving treatment at Belford Hospital in Fort William.
Police described his condition as serious but stable. The climber who died has still to be named.
The pair had been climbing in an area known as Zero Gully when they fell more than 1,000ft (350m).
The emergency services were alerted at about 11:00 on Sunday.
An RAF helicopter and the Lochaber Mountain Rescue team went to the scene.
John Stevenson, from Lochaber Mountain Rescue, told BBC Scotland that conditions in the area were good at the time.
He said: "They were on a gully, Zero Gully it's called, and they must have been pretty well up it, probably past the hard patch on it, and something's happened.
"One of them has fallen off and taken the other one with him. They have gone down about 350m-plus, to the bottom.
"The weather was fine. The top of the Ben was crystal clear. So it looks like they have just had an unfortunate accident."