Terrifying events led to Dumbarton FC captain's death, sheriff says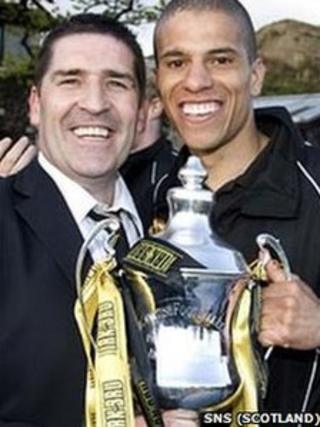 A footballer's death following an off-road driving trip crash was "tragic and untimely", a sheriff has said.
Dumbarton FC captain Gordon Lennon, 26, was electrocuted after the vehicle he was in struck an electricity pole in a Ross-shire estate in June 2009.
Sheriff Alasdair MacFadyen said the vehicle's driver was travelling too fast for the conditions.
He said an inquiry into Mr Lennon's death heard evidence that had described "a terrifying sequence of events".
The fatal accident inquiry (FAI) heard that Mr Lennon was a passenger in a 4x4 that crashed into an electricity pole on a mud track in woods on Brahan Estate.
The pole snapped on impact and live 32,000-volt electric cables fell onto the vehicle, electrocuting Mr Lennon as he tried to escape. He was pronounced dead at Raigmore Hospital in Inverness.
The footballer, originally from Larne, County Antrim, had lived in Paisley.
In his newly-published determination, Sheriff MacFadyen said the accident could have been avoided if driver Fraser Hughes had driven with "sufficient care and attention and maintained proper control" and at a "lower speed appropriate to the conditions" as he neared the electricity pole.
The sheriff said the off-roading activity had fallen outside the scope of the health and safety at work rules.
He recommended that Highland Council consider whether off-road events which were open to the public, and involved some form of commercial payment, should require a public entertainment licence.
'Untimely death'
The sheriff also recommended that Northern Constabulary review its policy on the investigation of vehicle collisions which did not happen on the public highway.
He said this would ensure that "evidence was appropriately and timeously gathered and preserved".
Sheriff MacFadyen praised the actions of Mr Lennon's friend James Hampton.
He said Mr Hampton appeared to have had no regard for his own safety and jumped over what may have been a live electricity conductor in his efforts to try to rescue Mr Lennon and to carry out CPR on him until an ambulance arrived.
Sheriff MacFadyen said: "Mr Lennon's death can only be described as tragic and untimely.
"I offer my personal condolences to all of his family."