Nairn and Ardersier GP-led study on care plans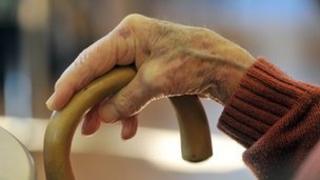 Greater anticipation of the medical care needed by vulnerable people could bring major benefits to patients and save money, according to a new study.
The research led by Nairn and Ardersier GP practice involved the creation of "anticipatory care plans" for 100 high-risk patients.
It set out patients' preferred future place of care and if they wished to be resuscitated if they collapsed.
The results included fewer hospital admissions and less time in hospital.
GP Adrian Baker said the care plans also led to more patients being able to die at home as they had asked, rather than dying in a hospital bed.
Comparisons were made with the fortunes of high-risk patients over a previous 12 months and also a sample of 100 people with another practice in the Highlands who did not have an anticipatory care plan.
Dr Baker said the care plans led to more than 40% fewer admissions to hospital and, if a patient had to be admitted, they spent about 50% less time in hospital.
The plans were put together following discussions with patients, their carers and families.
Dr Baker said many of those involved had wanted an opportunity to explain how they wished to be cared for in the final days of life.
He said: "We asked patients specifically who was looking after them, how they wanted to be looked after, what the understanding of their illnesses were and what they would like to happen to them if and when their illness took a sudden turn for the worst.
"We looked at where they would like to be cared for and whether it be in their own home, in a community hospital, or a care home if that was appropriate.
"We also asked them whether they would wish to be resuscitated or not in a sudden collapse."