High winds in Wester Ross disrupt A890 closure ferry scheme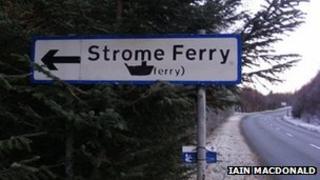 A boat and a small car ferry introduced to part of the Highlands to ease travel following a road closure have been suspended because of strong winds.
The A890 in Wester Ross has been shut since 22 December following landslides.
Highland Council's hopes of partially re-opening the route has been hit by delays.
The local authority said the ferry services offered to local residents have been suspended for the rest of Thursday due to high winds.
Earlier this week, Highland Council said bad weather meant they could not reopen the A890 as planned. A new date has not yet been fixed.
Long-term solutions to problems affecting the A890 could cost between £40m and 70m.
They include a road bridge across the Strome Narrows, or constructing a new bypass to replace the existing one.
The road was shut following landslides, which have been cleared.
Fresh slides continue to pose a threat to the route.