Fan offers to fix Ross County footballers' 'Vengabus'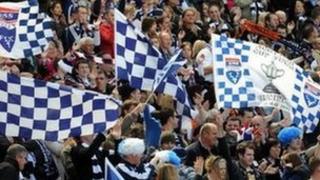 A fan has offered to give a people carrier bought for £400 by a group of Scottish First Division players an overhaul after it broke down.
Dubbed the Vengabus after a 1990s song, it is used by Ross County players living near each other in Inverness to get to training in Dingwall.
Supporters put out an appeal for a mechanic after hearing of the breakdown.
Ross County FC said a fan had come forward to help get the "bus" working.
Players Michael Gardyne, Paul Lawson, Steven Craig, Russell Duncan, Grant Munro, Johnny Flynn and Darren McCormack had clubbed together to buy the Fiat people carrier.
Supporters rallied round to try and them out with the breakdown as a "thank you", after a club coach gave some fans a lift home following an away game.
In an appeal on Facebook, a fan wrote: "This season the Vengabus has been a great servant to the Ross County players, however, it is with a heavy heart that I have to tell you that the Vengabus fell seriously ill on it's way to Dingwall this morning.
"This is where we now need your help.
"Are you, or do you know of, someone who is able to have a look and repair the Vengabus?
"It has been less than a month since the supporters club bus broke down on the way home from St Mirren, the players' coach that night stopped to help some of the fans get home, so it's only right that we now give them a helping hand to get the Vengabus back working."
A club spokesman said the vehicle could be back on the road soon.