First new Beauly-Denny electricity tower completed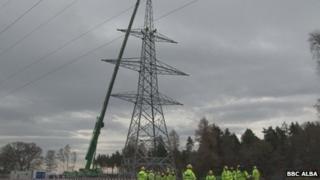 Construction of the first new electricity tower on the controversial revamped Beauly to Denny power line has been completed.
Scottish Hydro Electric Transmission Limited, a subsidiary of SSE, erected the tower at Beauly, near Inverness.
More are expected to be built along the route between the Highlands and central Scotland during this year.
Opponents to the upgrade have complained that the new towers will spoil mountain landscapes.
The project is expected to be completed in 2014 at an estimated cost of £600m.
It will see new 42m to 65m tall towers along the 130-mile (209km) upgraded route.
Work to remove a string of existing steel electricity pylons in the Cairngorms National Park started last year.
About 33 miles (53km) of overhead transmission line are to come down between Boat of Garten and Cairnmore.
SSE has agreed to remove about 68 miles (109km) of overhead pylons in the Highlands and Perth and Kinross.