Weir's boss warns on Scottish independence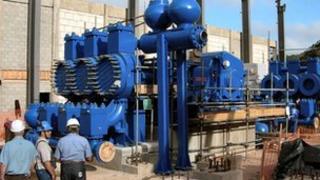 The chief executive of Glasgow-based Weir Group has raised concerns about uncertainty caused to businesses by the independence debate.
Keith Cochrane echoed warnings made by the utility company SSE.
The Weir Group, which is valued at £4.6bn, is one of Scotland's biggest businesses.
The Scottish government has emphasised how many international companies have continued to invest in Scotland while knowing a vote is due.
Mr Cochrane said: "I know SSE made a submission last week and we are not in the same position as SSE in terms of impact.
"But as I stand back and think about it as a businessman who happens to be based in Scotland, I have to say that I agree with the points that they put forward in terms of uncertainty that these issues can create.
"People need to understand and take an informed view of what is a life-changing, generational decision."
But the engineering company boss indicated that it was unlikely Weir Group would leave Scotland.
He added: "Yes we could move but I have lived and worked in Scotland all my life.
"I am a proud Scot. Fundamentally it is about the business environment and any changes that independence will bring."
The Scottish government has promised clarity for business in its plans for a referendum.
Finance Secretary John Swinney said: "These are perfectly fair and balanced comments, and we are absolutely committed to having a fully-informed debate on Scotland's future - which is exactly why in the coming months we will continue to set out what independence means for people and business in Scotland, and in autumn 2013 we will publish the full prospectus for independence in plenty time for the referendum."