Mull tenant farmer Iain Mackay on his journey into farming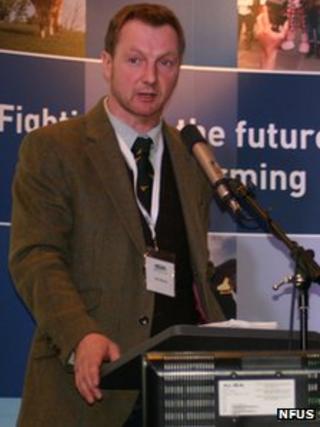 Iain Mackay, 39, is a member of NFU Scotland's new generation group.
He also holds a tenancy to 7,413 acres at Torloisk on the Isle of Mull, off Scotland's west coast.
For Iain it has been a long road to taking over a large-scale concern.
He said: "My parents and grandparents farmed at Luss, near Loch Lomond.
"I started off as a kid helping out on the family farm, then went to college in Edinburgh.
"My grandfather retired out of farming at 65 and that meant the whole family came out of the farm at the same time.
"I decided to try and stay in the industry."
Without the finances to buy or rent his own place, he first worked as an agricultural contractor.
Iain said: "I did contracting for a long time.
"But about 15 years ago I took on a wee bit of ground, about four acres, and stocked two or three sheep on it.
"Then an opportunity came up 10 years ago to take on a tenancy on Mull of about 250 hectares and I kept about 50 cows on that.
"Two years ago, I was given the opportunity to take on a tenancy of 3,000 hectares and I have 1,000 ewes and 50 cows.
"It's been a slow progression."
Last year he was among about 20 farmers involved in setting up the new generation group.
"A few of us had been knocking at NFUS's door asking for a stronger voice within the union," he said.
"We thought the best way to influence governmental decisions was through the union.
"The progress has not been as fast as we would have liked. We're young and enthusiastic and want to move as quickly as possible.
"It's gaining momentum now."
At the end of February, the group agreed its mission statement: To create the best operating environment for the new generation of Scottish agriculture.
The challenges to achieving this are significant.
They include a lack of suitable land, high costs of purchasing entitlements to subsidies and a shortage of lengthy tenancies.
Iain said: "You need a tenancy of a decent length of time to make it worthwhile to invest in that business.
"You need something of 10 years or more because to go out and purchase agricultural land is just not possible for the younger generation. The finances aren't there."
He added: "CAP (Common Agricultural Policy) plays a big part in it and influences us all and we need to look at that. It has been a hurdle to the younger generation getting into agriculture.
"We have also got SRDP (Scotland Rural Development Programme) with its new entrants part in there, but it is not hitting all the issues. It is not really enough to get people into agriculture."
'Difficult subject'
The rate and ease of farms passing from one generation to the next is another matter for the group.
Iain said: "Succession is a really important issue that the older generation need to look at and not be concerned by.
"But it is a difficult subject to raise.
"The older farmers do not want to appear greedy and the younger generation does not want to seem selfish in saying 'look you really need to look at this and let me in here - I want to have a say on this business'.
"Some farmers find that they have no successors so they are not retiring out of the industry, or they feel they have got in late after their parents and they've only been allowed to take the farm on in their 50s so they want to get a decent crack of the whip.
"They want 10-20 years off it so they are unwilling to give up until they are of a fair age."
Iain added: "For some, agriculture is their whole life. It encompasses everything in their life and if they give that up they've got nothing to keep them going.
"So it is a huge decision for a farmer and I totally understand that.
"I don't want to be too critical of it because I want to be involved in agriculture for as long as I can."
But despite the obstacles, Iain remains positive about the industry.
He said: "I see it having a really bright future. There is a lot of positives happening just now.
"We have to engage the younger people in the industry and say: 'look, there's a good living to be made. It's not going to make you a fortune but it's a living, it's a way of life'."