Security fears over Uist rocket range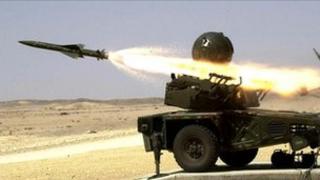 The company which runs the Uist rocket range has been challenged to explain cuts in security at the facility.
Local MP Angus MacNeil has claimed that cuts are being made in staff numbers, hours worked and wages.
The range test missiles from around the world and employs over 100 people. It was saved from closure in 2009.
The operator, Qinetiq, said it is introducing new mechanisms to consult with staff as it moves into the private sector.
Mr McNeil said: "I will contact Qinetiq and the MOD as a matter of urgency over these issues, which do no good to either organisation and also has huge implications for staff morale at both sites.
"Security staff working for Qinetiq have seen their wages slashed by up to 30% because of the loss of the shift allowance and the flexible roster allowance.
"It also means that many now cannot make personal pension contributions because of these cuts.
"It has also been brought to my attention that only one security guard will now be on duty at each site, guarding high tech radar and other valuable equipment."
A spokesman for Qinetiq said: "Over the last few months we have been having constructive discussions with the unions to address legacy employee agreements, including allowances, to reflect the current marketplace.
"Remuneration packages, supported by the unions, are currently being consulted on by our employees and we hope to be able to reach agreement shortly.
"The security of all our sites remains a top priority and staffing levels remain in proportion to regular risk assessments."
The spokesman added: "We are looking forward to working with all our employees in setting up the employee engagement forum, which will represent everyone in the company.
"The unions will continue to have a role within Qinetiq although from the end of March the new forum will take over from the voluntary collective agreement currently in place."